Portugal, a sun-drenched paradise of golden beaches, historic cities, and charming villages, invites travelers to discover its vibrant culture and stunning landscapes. From the cobbled streets of Lisbon to the wine valleys of Porto, Portugal offers a range of experiences that resonate with history enthusiasts, beach lovers, and food aficionados. In this comprehensive guide, we provide essential information to help you uncover the enchanting treasures that make Portugal a captivating European destination.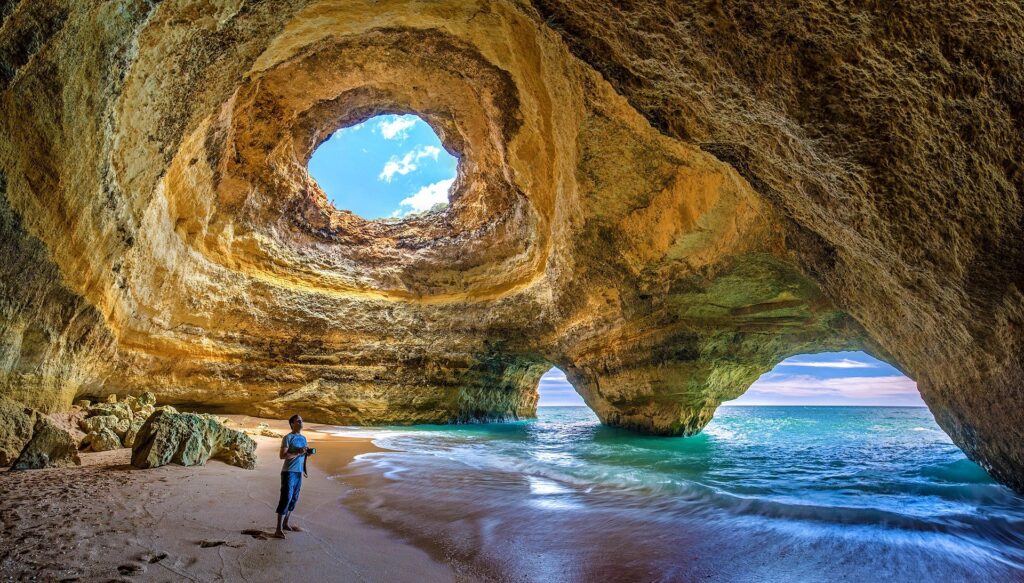 Lisbon: The City of Seven Hills: The capital city, Lisbon, is a blend of ancient history and modern allure. Explore the historic Alfama district, ride the iconic Tram 28, and enjoy panoramic views from São Jorge Castle.
Porto: A Riverside Gem: Porto, Portugal's second-largest city, captivates with its scenic riverfront and wine culture. Visit the historic Ribeira district, sample world-famous Port wine, and explore Livraria Lello, an enchanting bookstore.
Sintra: Fairytale Escapes: Sintra is a magical town dotted with palaces and castles. Discover the romantic Pena Palace, explore the Moorish Castle, and stroll through the lush gardens of Quinta da Regaleira.
Algarve: Beach Paradise: The Algarve region offers stunning beaches and breathtaking cliffs. Relax on Praia da Marinha, explore the grottoes of Lagos, and enjoy water sports along the coastline.
Portuguese Cuisine and Pastel de Nata: Portuguese cuisine is a delight for the senses. Savor traditional dishes like bacalhau (salted cod) and indulge in pastel de nata (custard tart) at local cafés.
Fado Music and Cultural Heritage: Experience the soulful melodies of Fado, Portugal's traditional music. Immerse yourself in the country's cultural heritage at museums like the National Museum of Ancient Art.
Etiquette and Greetings: Portuguese culture values politeness and warmth. A handshake and direct eye contact are customary. Tipping is appreciated but not obligatory; rounding up the bill is common.
Language and Currency: The official language is Portuguese, and English is widely spoken in tourist areas. The currency is the Euro (EUR).
Practical Tips:
Time Zone: Western European Time (WET, UTC+0)
Portugal's public transportation system is well-developed, with trains and buses connecting major cities.
Conclusion: Portugal, with its coastal beauty, historic richness, and vibrant culture, offers an immersive journey that's both enriching and unforgettable. Whether you're wandering through ancient towns, lounging on pristine beaches, or indulging in local cuisine, Portugal presents a mosaic of experiences. Embrace the country's unique charm, from historic landmarks to culinary delights, and embark on a voyage that captures the essence of this captivating European destination, leaving you with cherished memories of its authenticity and coastal allure.